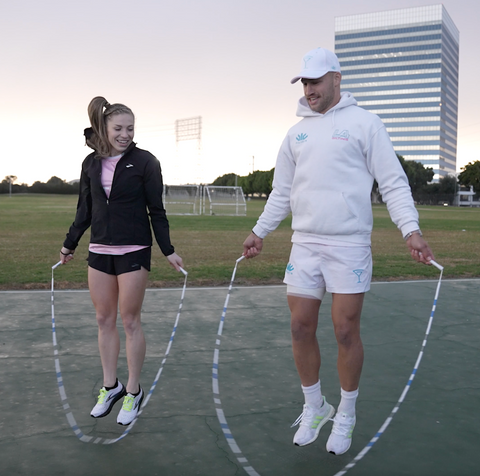 Tackling Jump Rope Skills with BILLY MEAKES
Awesome Annie, Toad, Frog, Wounded Duck, Dark Side, Subway... what do all of these words have in common? Believe it or not, these are all names of jump ropes skills 😂 and if you get into a room with some jump rope athletes, there is a big chance you won't be able to follow the conversation one bit. This is EXACTLY how I felt coming into the LA Giltinis Rugby practice, "Are they even speaking English right now?" Well, as you all may or may not know, Rugby is actually VERY English, having originated in the UK, and I have recently gained some mad respect for this sport and the athletes in it. Grubber, Scrum, Meat Pie, & Haka (a word which I oddly do know from dance experience) are all Rugby sport terms that could totally trip up the unfamiliar. 
In my opinion, Rugby is the epitome of a team sport. You have your fellow opponent sports like soccer (something I personally LOVE to play), basketball, football, hockey, lacrosse, and so on, but I think what connects Rugby players even more is the level of physicality involved in the game. The physical barrier is definitely broken and there are no pads or helmets to reduce those interactions. In parts of the game, players are literally hoisting up their 6-foot plus teammates, borderline cheerleader style, to get the ball. No doubt players have to build trust among one another to play the game and play it well. 
I found myself at a Major League Rugby (MLR) team practice for the LA Giltinis, a new team in the league and the 2021 MLR Champions. Though named after a cocktail, which seems rather quirky, I think it fits the variety of fun personalities you find on this team including my highlighted athlete, Billy Meakes. Originally from Australia, Billy is such a positive athlete to work with and the episode was really a fun one to shoot. 
I was a bit nervous coming into the practice, not knowing what to expect and having ZERO rugby experience, but it didn't take long to feel comfortable tossing around the ball thanks to Billy's expert instructions. Turns out, he is pretty great at throwing around the jump rope too! Our episode is all about jump rope releases so if you've been wanting to learn the MIC (pronounced like "Mick") Release, follow our steps to get that baby down. The LA weather went a bit crazy as a storm rolled in during the episode. See if you can spot the lightning strike that made us wrap up the shoot ASAP! Special thanks to Tiffany Rowse who not only was our woman behind the camera (and is a Rugby player herself), but also took great care of my experience there with the team.
Now that I have found myself acquainted with quite a few rugby players, I guess I need to make it to a game soon so I can appreciate this wild sport even more. This episode really reminded me of how much I miss that team aspect in sports. Jump rope definitely has team events, which, of course, have been limited in the past couple of years, but in the sport of jump rope, you aren't playing an opponent unless you are in a Double Dutch Contest battle, but more detail to come on that in another episode 😉 
Though there isn't as much crossover between the sports of rugby and jump rope as there has been in other episodes, it was really fun to share our talents and see how both Billy and were able to use our athletic trainings to learn new skills from one another. Enjoy this fun episode and try to catch a rugby game sometime. No doubt you'll have a great time! You probably won't see me in a rugby game anytime soon, but I can certainly appreciate the training that these athletes require! 
 *Special thanks to Brooks Running & the #MakeARunAtIt campaign for sponsoring me for this episode!