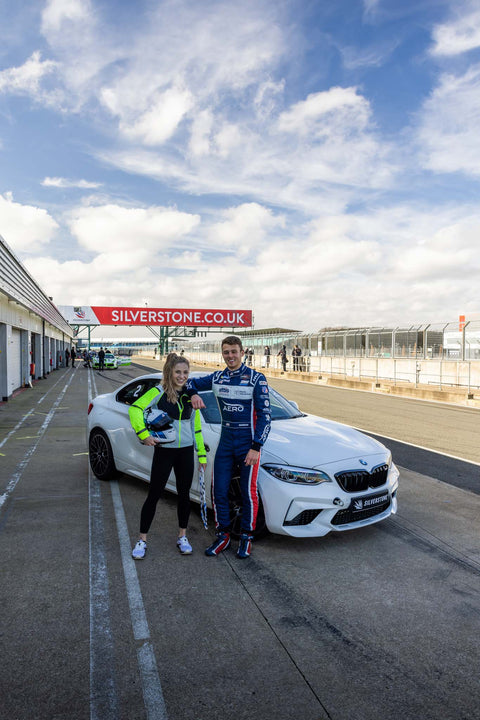 Racing Against PHIL HANSON
If you ever have a chance to get out on a racing track, #1 do not pass it up and #2 please bring me along! This was all too exciting of an episode and it is something I hope to get to do again in the future. I have to give all the credit to Phil Hanson though. I know I had him sweating most of the day when I was behind the wheel but he was really an incredible teacher.
Phil is a professional endurance racing driver from the UK. In 2020, he became the first driver to win the FIA World Endurance Championship (LMP2), European Le Mans Series, and the Le Mans 24 Hours (LMP2) all in the same year. He has loads more titles behind his name and no doubt has a full racing career ahead of him. 
Phil and I have been friends for a while which made it an extra fun one to film, but until I was getting in the driver's seat, I don't think he realized that I had never been on a track like this before. I definitely saw him get nervous over it, so I'll be teasing him about that one for a while. Does my US driver's license even matter in the UK? 🤔 Hehe. I won't lie, there was a quick second for me to adjust to the wheel on the other side of the BMW M2 (thanks to Silverstone for organizing this), but fortunately it doesn't matter too much on a one way track. It was an amazing experience to say the least. 
Heading up to Silverstone Circuit from London in the UK was a blast of a day and turned out to be a much longer shoot than previous episodes. I convinced Phil to let me drive a bit even after the shoot, so I owe him for that one. A lot of preparation had to go into this episode for permissions, scheduling, and safety, and, though our videographer wasn't allowed to get directly in the car with us or fly up the drone (which would have made for some epic shots), we were lucky to have a beautiful day with us. We did think we were going to freeze outside and between filming we were running over to grab our winter coats and gloves, just to throw them off again two seconds later 😂 I think, Tim, our videographer, was dangerously close to some frostbite on his hands (he's ok now). 
Phil does a lot of functional fitness for his sport, which gives us many similarities in trainings. The day before the shoot we actually did a rowing workout together, which we both would do separately in our normal trainings. Phil breezed through Double Unders and got up to Triple Unders in this episode, so follow along for some drills and technique tips that I give to master those.
It was clear that Phil would be able to quickly pick up more advanced jump rope skills beyond what we had time to do at Silverstone. I'm sure this has something to do with his fast reaction time and ability to make quick adjustments from his sport training. Jump rope speed can quite easily be compared to a lot of race driving elements even in terms of braking and throttle as applied to rope movements and control. Phil and I specialize in speed for our respective sports, which seemed to carry over nicely as we shared skills. One thing that is tough for me to get over, is the small amount of time that racing drivers actually get to spend in the car or on the track. Rarely does a day go by when I don't jump over a rope, so it would be tough for me to be in a sport that can be a pricey practice $$$ 
About that racing though... from full throttle to slamming on the brakes and drifting, I didn't realize I would enjoy racing as much as I did. Part of the reason I was good at track in high school wasn't even because I was an amazing runner, I just wanted to pass competitors and get away from people, which directly applies to driving on the track and technically is a significant part of doing well in the sport 😜 I think I could easily become obsessed with race driving and I look forward to watching some of Phil's future races after understanding the sport so much more now. On the track, we did get a full spin in (after wrapping the camera unfortunately 😩), thanks to my wayyyyyyy too late breaking and a bit of trouble on one of the turns (hopefully my Mom isn't reading this one 😬). With some smelly brakes creeping in though, Phil put a kibosh on my driving 😂 😂 😂 All I can say is that he is a great teacher and there is no way I would have tried racing alone. In Phil's own words, I did "impress" him, so I can officially say that my mission is accomplished 😎 
Phil's season is just beginning so follow along with his races and check out the full video of our adventure together at Silverstone! 
 *Special thanks to Brooks Running & the #MakeARunAtIt campaign for sponsoring me for this episode!