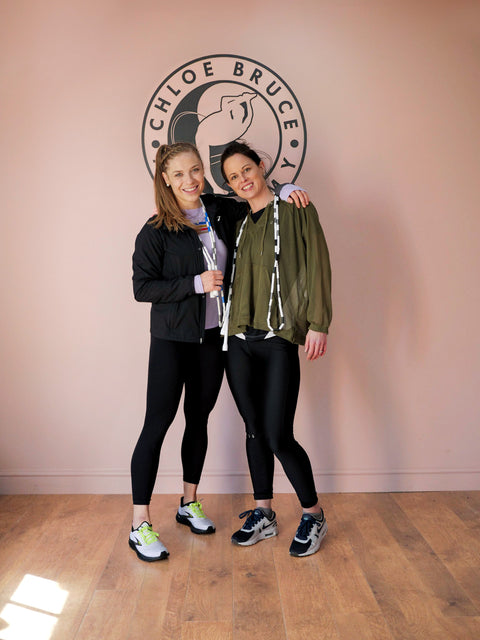 Kickin' It with CHLOE BRUCE
If you haven't already had the pleasure of knowing who Chloe Bruce is, then get ready because you are about to meet an incredible woman. I still cannot even believe that I got to train with her! I've been following her socials for a while and am even more of a Chloe fan after meeting her in person - a fierce athlete with a lovely heart. 10/10 recommending Chloe for your future stuntwoman needs 😃
Her resume is impressive to say the least. I'll let you look her up to get your mind blown there, but I am even more impressed with her ability to balance everything while having a family and running her own Academy. Chloe has a really interesting life story and journey. There is no doubt she will continue doing some amazing things while passing along that same spirit to all who learn from her. 
It was really quite fortunate that Chloe and I were able to meet up near Surrey, England at her studio. Having recently come off of the episode with Holly Holm, another powerful woman, I was really excited for this different take on MMA - Freestyle MMA. Whereas Holly is fighting opponents, Chloe is mastering forms and creating new artistic sequences often even to music, which is something I can seriously relate to with jump rope. Though the subjects of our content online are different (MMA vs. Jump Rope), the actual base style is quite similar. I was really happy to feel that crossover of creatively combining the skills Chloe taught me and then sharing a similar approach with jump rope. Part of what makes a jump roper unique is how they choose to combine skills together. The combinations are really unlimited and make for a huge amount of style variations in our sport. This is clearly a significant part of what Chloe does, and is really good at, in her sport as well. 
After learning some kicks and a sequence from Chloe, I barely had to teach her jump rope skills as she picked up pretty much everything I gave her first try. Chloe was even rocking jump rope routines by the end! Granted, she does have some of the best form in the business, I think we could have been there all day combining jump rope and freestyle MMA sequences. I'm looking forward to another opportunity to create some really cool and unique content with Chloe and continuing to follow her journey. In the brief time we had together, her stunt stories were so interesting and she is clearly just a really special person whom I greatly admire. 
I think Chloe and I connected well on our different sport journeys and how we approach innovation and business within our passions. I'm looking forward to re-watching some of Chloe's movies to spot her and her incredible skills as well. Follow along in our YouTube episode as Chloe teaches me some kicking moves and picks up jump rope leg skills. Check out our final routine on our Instagram pages (Chloe's // Tori's) and drop Chloe a follow if you haven't already. She's definitely worth it! (Chloe's also crazy close to 100k on YouTube - let's help the woman out with some subs!) 
*Special thanks to Brooks Running & the #MakeARunAtIt campaign for sponsoring me for this episode!