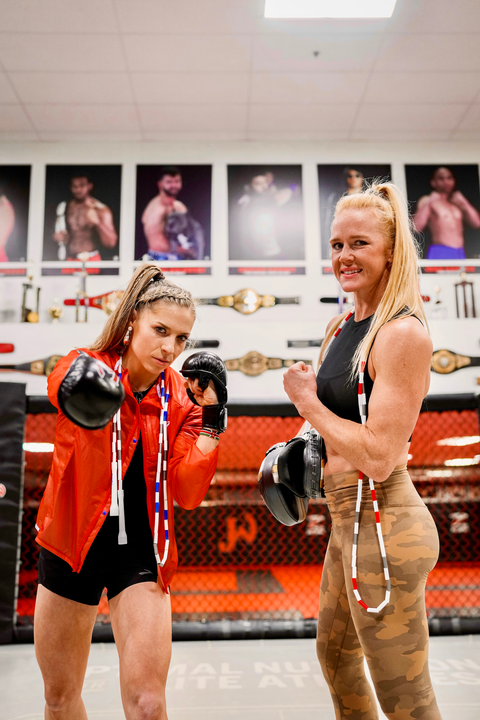 Face Off with HOLLY HOLM
Insane dream collaboration. This woman is seriously the best. I still can't believe I met her!
If you have followed me or Holly Holm on Instagram, you may have seen a couple of our jump rope routine collaborations. We were literally thousands of miles apart and Holly was an absolute trooper learning jump rope skills online. It definitely was an honor to get to make those videos with her, but it also became a huge goal of mine to meet and train with Holly in person! I've been a fan of hers for years - love her attitude, work ethic, confidence, composure... what a role model! I rarely fan-girl over people, but Holly is definitely one of those people. And, in-person, she did not disappoint. She's intense in the training and kind outside of the Octagon. Just what I look for in a champion! 
I met up with Holly at her home gym, Jackson Wink MMA Academy, in Albuquerque, New Mexico (it was the first time I have been to ABQ and couldn't stop thinking about Breaking Bad while I was there 😂 ) Holly taught me a proper jab, cross, round-house, and combo of them all as well as basic footsteps to move around an opponent. I found a weakness in remembering to cover my face, so I probably shouldn't be in a fight any time soon unless I want to lose some teeth, but really enjoyed when we started into sequences of skills - something I can really relate to with combinations in jump rope. When it came time to jump, she was already at a pretty decent level so I got to throw out a few advanced skills for her to try. Holly crushed it!!!! Even when she was getting the skills, she would repeat them over and over to make sure she officially had them. I absolutely LOVE her work ethic and attitude. HUGE INSPIRATION! Be sure to watch the video to see how we break down the Toad (Leg-Over Cross) and the different types of Side Swings. 
As with any of the sports in this series, we are always looking for crossover concepts and movements. Though Jump Rope and MMA are structurally quite different, the level of conditioning and quick movements needed to excel at either sport definitely align. Jump rope has been a common training tool for MMA athletes, which makes complete sense. Now my new challenge will be combining the kicks and punches into my jump rope routine 😜 It's no wonder that Holly picks up jump rope skills with lightning speed after even catching just a glimpse of her intense training to be the best. 
I had a really great time training with Holly. We even went out to dinner after and bonded over similar hobbies outside of sports. Though I would love to learn more MMA moves, it's safe to say I won't be training for UFC anytime soon nor would I dare go up against Holly. I'll stick to being one of her number 1 fans, no matter where in the world her and I are jumping! 
This episode is definitely near and dear to my heart, so I hope you enjoy it, can learn some new moves, and feel inspired to pick up a rope or roll with the punches. Oh, and be sure to follow Holly as she is training rock the Octagon again 😉 Until next time, HAPPY JUMPING! :) 
*Special thanks to Brooks Running & the #MakeARunAtIt campaign for sponsoring me for this episode!